Application information
Global Search
Due to the large quantity of information available from Shimadzu this search engine will redirect you to Shimadzu Global Website for a more comprehensive review of our literature. You will be directed to a new window. Please return to this Indian site for any additional enquiries or product information via our online forms.
Shimadzu Journal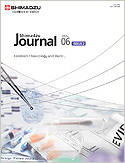 Published four times a year, the free on-line Shimadzu Journal will focus on specific topics in each issue.
It introduces xollaborative research and contains many technical reports and application notes written by Shimadzu.