Top Message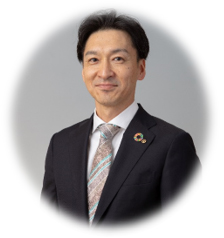 Dear valued customer,
Enabling technology for you- this is what we at Shimadzu Analytical India (SAIP) strive for. We firmly believe that process of growth is closely linked with assessment of current situation. At SAIP we constantly strive to evolve with current situation and proactively react to our customers' requirement.
Along with our massive distribution network, we ensure all round support- sales, service, technical, application, training etc. Our Customer support center is rooted on a fundamental principle of "Betterment of the customers".
CSC lab facility ensures that it caters to all analytical requirements across industrial segments and academic institutions. Our team of experts responsible for CSC lab activities takes care that customers are catered and timely satisfied for all their applications and educational requirements.
It gives us immense pleasure to say Thank You- to our esteemed customers, for the support and trust extended towards Shimadzu and its allies. It is this very faith and relation that keeps us going and helps us to evolve as an institution
It is our commitment to maintain and enhance this relation with you-to- Enable Technology for you.
Thank you again.
With Regards,
Yoshiyuki Fujino
Managing Director
Shimadzu Analytical (India) Pvt Ltd.
Celebrating 15th Anniversary
April 2021 rings in the 15th Anniversary for Shimadzu Analytical India (SAIP)!
Back in 2006, SAIP was formed as an assurance and as a commitment of Shimadzu's Support to the INDIAN scientific community.
We are here not to only deliver high-end analytical & scientific instruments but to support our customers by being their partner providing total analytical solutions.
"Contributing to Society through Science and Technology" has always represented the unwavering spirit of Shimadzu as a brand. That spirit continues to be passed on to successive generations at Shimadzu Group operations throughout the world today, as the official corporate philosophy. SAIP carries the same torch of Shimadzu legacy & heritage, thereby, imbibing the core values of a focused Customer-Oriented approach. We intend to facilitate cutting-edge products and services that society truly needs, to be able to face the challenges of current times while maintaining a flexible attitude in order to keep up with changing customers' demands offering innovative future ready holistic solutions.
The Shimadzu virtue of "Excellence in Science" helped SAIP evolve over these 15 bright years and we take great pride in the importance of working along with customers every step of the growth journey to progress together.
We wish to share our delight on achieving this remarkable milestone & express our gratitude to patrons for their trust & support over the years.
Thank you for believing in us to be a reliable partner in your success!